Stingray skin, also known as shagreen, is the upper portion of certain species of shark and ray used in leathercraft. … They are larger in the centre of the skin and smaller on the outer edges. Each tiny sphere is made up of a hard substance called dentin, with an even harder outer coating of enamel
The Shagreen Collection from Everweek Leathers is comprised of the finest genuine stingray hides in the industry, resembling gorgeous diamonds and pearls. Shagreen skins have a unique calcium deposit in the center of the skin which is commonly known as the "crown". Stingray skins are the pinnacle of luxury worldwide, as their rarity and uniqueness make them a true gem. Shagreen is extremely durable and can be used on walls, panels, furniture, etc.
Description
Real

fully polished pearl fish skin

100% GENUINE Stingray skin
Due to the differences in dye lots there may be some differences between skins

Size: 30CM*10CM (11.8″x3.9″), natural growth, different sizes

Effective use area is guaranteed to be 19CM*10CM (7.4″x3.9″

)

Thickness: around 0.8 to 1.0MM
These are the finest stingray skins available. They are soft and supple, with a beautifully polished surface which gives them a jewel like quality. Stingray leather, also referred to as shagreen, has been used over the years for making leather goods, covering furniture, and many other applications. Due to the soft-tanning of our skins they are pliable, easy to cut and can be worked like leather.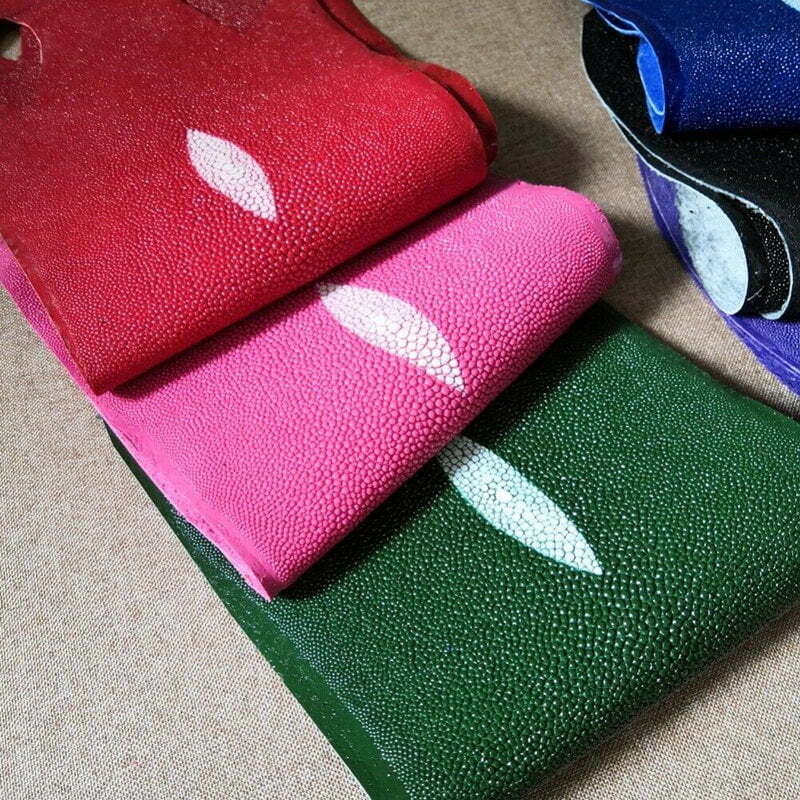 Stingray skins are among the softest available in the exotic leather industry; our skins are tanned with a proprietary blend of tanning formulas and oils for the softest, most pliable stingray skins with the most prominent diamond-shaped crowns
Every stingray skin has two breathing hole cuts from the upper section; these holes and the space between them are not considered in the grading of the finished skin. Stingray skin size is determined by measuring the widest area below these two breathing holes.