Would you like to learn more about the characteristics of snake leather? How is snake leather made? Could you please tell me if all snakeskin accessories are made of real snake leather? If so, what kind? Is snakeskin leather real?
Snakeskin is the patterned skin of a snake. The texture of snakeskin leather is very unique and instantly recognizable. These exotic skins are typically dark in color and embossed with light scales that run vertically from head to tail. In most cases, snakeskin is leather made from the Salish/Pit Viper, which is native to Asia.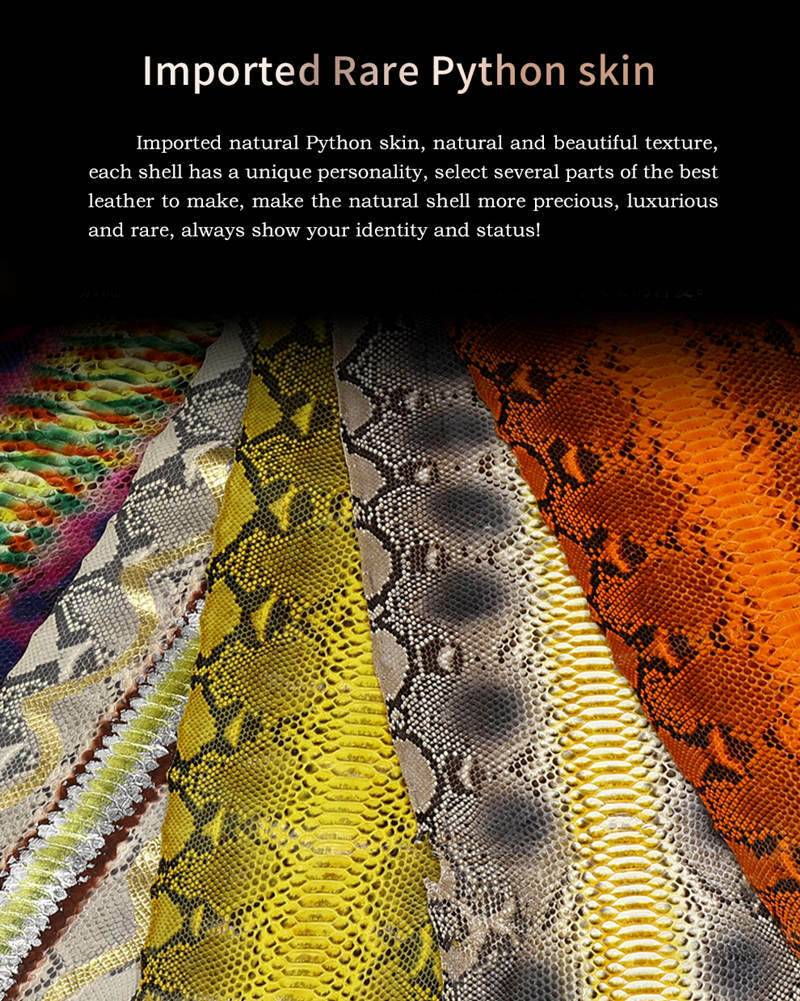 We often use snakeskin patterns in our designs as one of our favorite motifs. Since these exotic patterns have become popular among the red carpet celebrities and fashion icons, many people are wondering about snake leather. Today, I've decided to address all the questions and doubts about snakeskin in fashion, as a leather accessory, and its alternatives.
Although snakeskin is exotic leather, it is still a genuine leather material. It is made from tanned snake skin, which maintains the original features such as scale grains, gloss, and sleek texture. During the tanning process, the finish and color may change.
Trend of Snakeskin
There is no doubt that snakeskin fashion is one of the most prominent motifs in 2021 from the runways to the pages of style magazines to social media platforms.
The entire fashion industry seems to be inspired by vintage looks, mostly from the 1960s and 1980s. It does not matter whether it is high-waisted jeans with tucked-in tops, striped halters, or animalier patterns: vintage is the new vogue in this year's trends.
Does Snakeskin Fashion Fit You?
You have noticed the sensual snake trends and now you're wondering if this style is right for you. We understand! In the minimalist and sleek looks of the 2010s, snake patterns may seem complex at first. This comprehensive guide on how to dress with snakeskin can assist you in learning about styling with snakeskin. Let's have a look at what defines a snake.
Is Snakeskin Considered as a Leather?
The purpose of snakeskin or snake hide is to create fashionable goods from snakes. However, from a designer's point of view, any material with a close resemblance to natural skin patterns is referred to as snakeskin. So is snakeskin classified as a leather material? Let's find out!
Origins Genuine Snakeskin
Genuine snakeskin is pointed out as exotic leather. Because of the origins of the skin and its complicated manufacturing process, snake leather sits on the extravagant side of the market.
Pythons, Cobras, Ayers, and sea snakes are the most popular species for leather extraction. These snakes are relatively large and the skinning process results in producing larger leather pieces, hence higher profits. Naturally, these species also offer exceptionally beautiful morphs and well-structured grains that add to their popularity.
Some of the largest living snakes are found in southeast Asia. Most of the python and cobra skin that is supplied to the market comes from their native habitats in Indonesia, Malaysia, and Thailand.
Several snake farms have been established since the rise of international trade concerns and activities of nature conservation organizations in these regions. Yet, most of the snake leather from these parts is sourced from endangered species and supplied by illegal snake poachers; a matter that remains a lingering concern for the welfare of numerous snake species.
Snakeskin Manufacturing
Snake skinning facilities are mostly established on snake farms or urban slaughterhouses. The leather extraction is done by using water or air compression under the snake's skin to assist in the peeling process. The leather is further tanned and dried before craft production
As a natural characteristic, snakeskin has a quintessential shimmer. Matt looks or metallic glosses are also created by applying during the tanning process. However, natural and undyed snakeskins are the most popular finishes, leaving the luxurious scales of the reptile intact in the final accessory.
While continuing as one of the most magnificent fashion motifs, genuine snakeskin has a wide impact on the welfare of endangered species, wildlife ecosystems, and economical obstacles due to the illegal trade of snakeskin. This is mainly the reason designers are inclined to look for alternatives instead of genuine varieties.
Suede Snakeskin vs. Authentic Snake Leather
There are countless debates on the use of snakeskin, mostly based on moral concerns, sustainability, prices, and even craft aesthetics. Here are some of the highlighted issues and the solutions.
Snakeskin leather has been used for clothing, boots, belts, and saddles for centuries by humans all over the world. As with many types of animal skin leathers, there is a divide on whether or not the production of snakeskin leather is ethical. Python skin and other types of non-poisonous snakes are used to create the majority of snakeskin products in today's world.
Exotic Snake Skin Prices
Authentic snakeskin is one of the most expensive accessories available, also for a few good reasons. They are rare to come by and sourced from an animal that, at best, gives its entire skin for a handbag.
Manufacture and crafting skills required to overcome the fragility of snakeskin call for experienced and skilled artisans, and again raising the price bars higher. Authentic snakeskin accessories can range from $1000 to $20,000. alternatively, suede leather comes at a fraction of the cost, while offering similar aesthetics.
Snakeskin Care and Durability
The bank-account-squeezing prices of genuine snakeskin accessories are solely dedicated to their fancy nature. These are luxury products and from a leather perspective, extremely fragile and short-lived compared to the rest of leather accessories.
Snake scales eventually point outwards and lose the initial sleekness. Leather waxes and staying wary of chemical cleaners help to extend the life of snakeskin accessories.
Generally speaking, the more natural the finish is, the more durable snakeskin turns out to be.
Real vs. Faux
Identical to other animalier patterns, snakeskin is worn to add hints of the wild characteristics to the wearer. Symbolic hints of authority, fierce nature, or irresistibility of beauty are the most common keynotes in snake fashion. Although these characteristics come at high costs financially, morally, and biologically.
Since the beginning era of responsible fashion, many concepts and materials have undergone structural changes: eco-friendly packaging, fair trade, and the use of wild animal leather and fur, including snakeskin.
Snakeskin fabrics are made of polyester and cowhide, a by-product of food and a sustainable alternative. Snakeskin imitation materials have the exact look and feel of snakeskin, which is virtually indistinguishable without expert knowledge of leather works.
These sources cut down on the inhumane slaughter of animals, decrease environmental footprints, and offer an eco-conscious alternative to like-minded users.
Forward Thinking fashion companies are setting their foundations around sustainable materials that preserve nature. Their products are inspired by the beauty of serpents, fine craftsmanship, and preservation of snake species. If you are looking for a premium snakeskin alternative at budget-friendly costs, you will love this Snake Bag Collection.
Snake Fashion in Jewelry
You have learned that snakeskin is a hot fashion trend and now you can judge if genuine snakeskin leather is for you. You have also understood the outline of authentic snake leather, from its manufacturing, accessory care, and sustainability. And similar to many other designers and fashion outlets, you may have already decided that responsible fashion is the only way to contribute to the conservation of nature in the long run.
Snakeskin leather is a beautiful and versatile material that can be made into many different items due to its distinct patterning.