What is embossed crocodile leather?
Instead of using alligators and crocodiles, many brands have turned to the lower cost option: creating their own reptile print on leather. Mock croc, or crocodile-embossed leather, is created with a machine that applies heat and a stamp, then presses super hard until there's an impression on the leather, giving it the look and feel of the reptile skin. It creates a unique and beautiful texture that has depth and richness of reptile skin, but made with cow leather instead (using cows for leather is a separate post entirely). The first of an economic nature: printed hides are much cheaper than real reptile hides.
Our Alligator & Crocodile embossed leather feels incredibly soft and has a luxurious texture that'll keep your hands feeling great.
Features
3D Crocodile Texture Alligator Leather iPhone 15 Pro Max Case
Perfect Fitting: The Size fits your phone perfectly. It is easy to install or remove. All cutouts are precisely designed to access all your device's features.
The soft inner lining comfortably contacts the surface of the device, prevent scratches from disassembling the device.
Exact cut-outs and function buttons help you use your iPhone 15 Pro Max conveniently.
Luxurious: Cases of this type are made of high-quality crocodile leather, the golden frame gives us a sense of royalty that you can enjoy luxury.
Available color: Black, Red, Brown, Blue
3D Crocodile Texture Alligator Leather iPhone 15 Pro Max Case
Exotic natural leather is softer and more luxurious to the touch than the printed one, but it is also more delicate. The skins most imitated by the bovine counterparts are precisely those that are the most expensive; on the other hand, very rare leathers are printed with a caiman effect, since, among exotic skins, they are the least expensive and, consequently, the least artificially reproduced, suitable for phone cases and other accessories.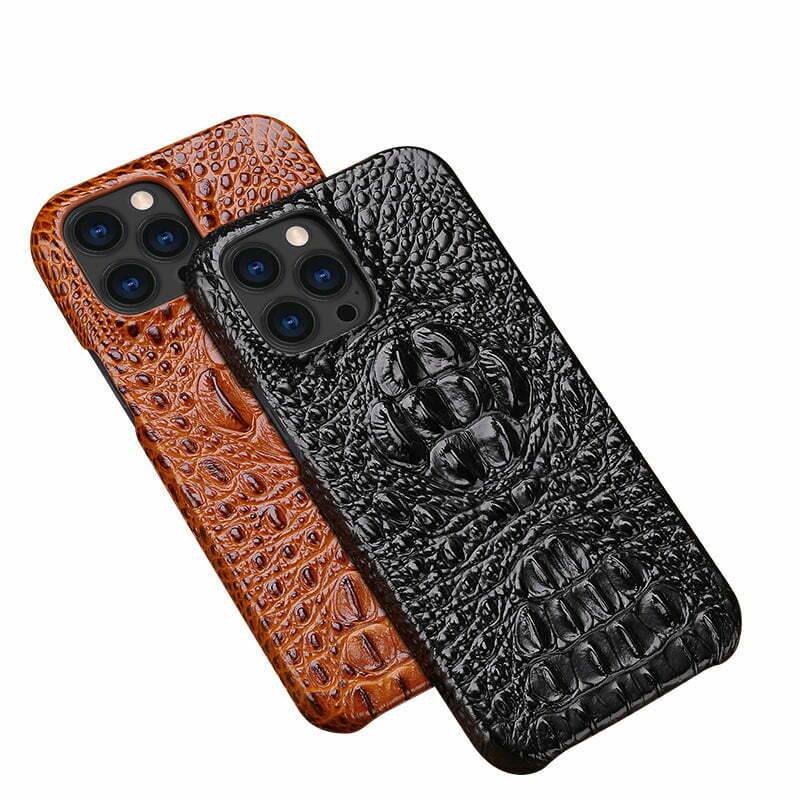 One way to recognize the type of animal reproduced consists in checking the different shape of the scales. Crocodile and alligator scales are rounded and squared irregularly, have a rather elegant and polished appearance than the scales that characterized caiman's skin, which are squared, however having a more uneven line compared to the crocodile. Moreover the scales of the caiman look a bit shrunken because of the so called "osteoderms", small bone formations that look like finger prints.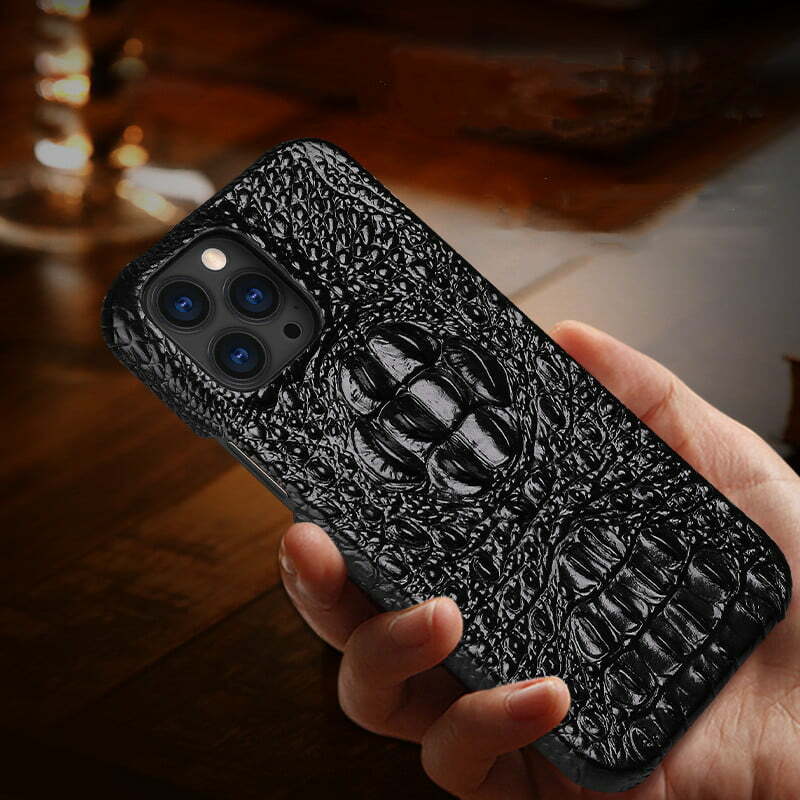 When genuine crocodile leather is used to produce a phone case, the parts coming from the belly and hips of the animal are used and these are the parts reproduced by the stamping presses.