This Genuine Leather Wallet iPhone 15 Pro Max Case is made from premium leather & durable TPU inner bumper, provides comfortable touch feeling. 8 card slots, 1 cash slot, 1 zip pocket, 1 earphone cable& data line belt buckle, make your life and work more convenient. Covers all sides and corners of your phone, protects your phone from dust, scratches, bumps and includes raised sides to prevent screen scratches and any other daily wear, ,Reinforced stitching makes it more durable and protective. Ultra-strong magnetic closure provides your phone security.
Features
Genuine Leather Wallet iPhone 15 Pro Max Case
8 card slots, 1 cash slots, 1 zipper wallet Enough room to fit all your essentials.
Distinctive secure clasp Open easily and give a full protection to your contents.
Made of Retro Vegan leather, high quality and durability.
Detachable wrist strap to free your hands and It will come in handy when you go out.
Available colors: Black, Brown, Red, Blue, Pink.
Genuine Leather Wallet iPhone 15 Pro Max Case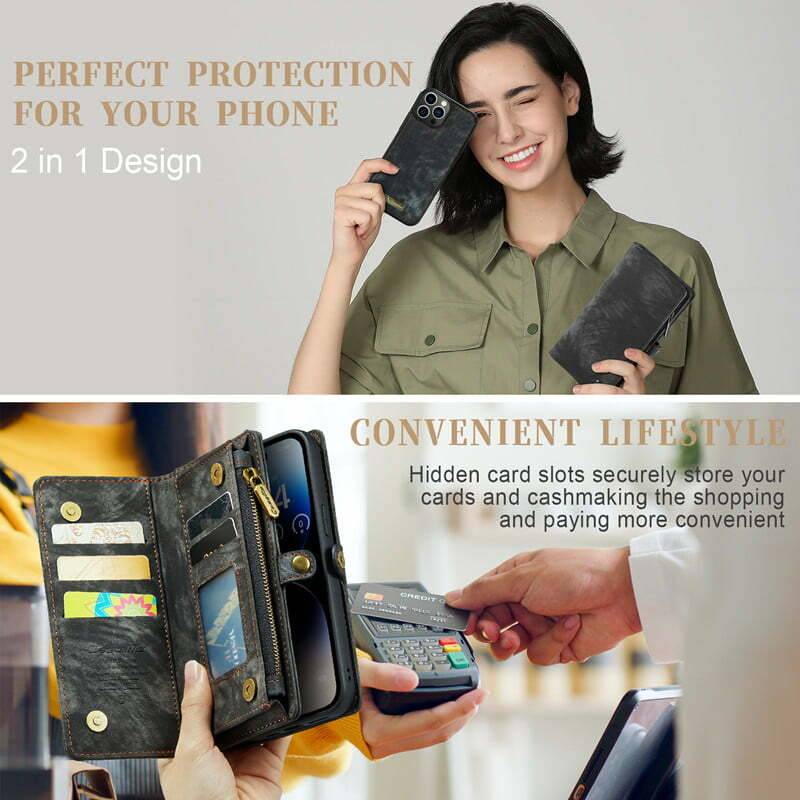 This thoughtful design features inner slot pouches specially designed to hold credit cards, cash, store cards, a driving licence or anything else of a similar size. So leave your old wallet at home and instead use the Genuine Leather Wallet Case for the iPhone 15 Pro Max. Perfect for the everyday commuter, holiday maker or business professional alike.