Carbon Fiber is a heat-resistant and strong synthetic fiber. This high-strength material was used first commercially in the early 1970s as a replacement for steel in racing tires. Typically it is spun into ropes or fabric sheets that can be used as such or as an ingredient in composite material components. Adopting the world's most thickness and lightness material ?100% the Carbon fiber to provide a minimalist phone case with the basic daily protection and also too light to feel the weight. Made by rigorous weaving, grease dipping, vacuum forming, precision laser cutting, twice manual polishing, spraying, and a series of the complex molding processes.
You can count on a carbon fiber iPhone case to protect your phone when it gets dropped or accidentally stepped on. And putting a new case on your Galaxy is sure to improve its overall look and feel.
Features
Carbon Fiber Samsung Galaxy Z Fold 2 Case
100% brand New and high quality
100% real carbon fiber for both inside and outside
Looks simple yet stylish and elegant
Thoughtful and reasonable design provides full-around protection to your Phone from bump, drop and scratch.
Ultra thin, ultra light, convenient to use
3K twill weave, Really good quality, Fit perfect, carbon fiber material, and most advanced CNC cutting technology make every ports and buttons fit perfect
You know, real carbon fiber is a radiation proof material ( which is very good for pregnant woman and kid), so this case may more or less weak the signal.
HAND CRAFTED USING 100% ARAMID FIBRE – We have created this exclusive case for you using strong Aramid Fibre, the same material that is used in military and aerospace applications and is renowned for its strength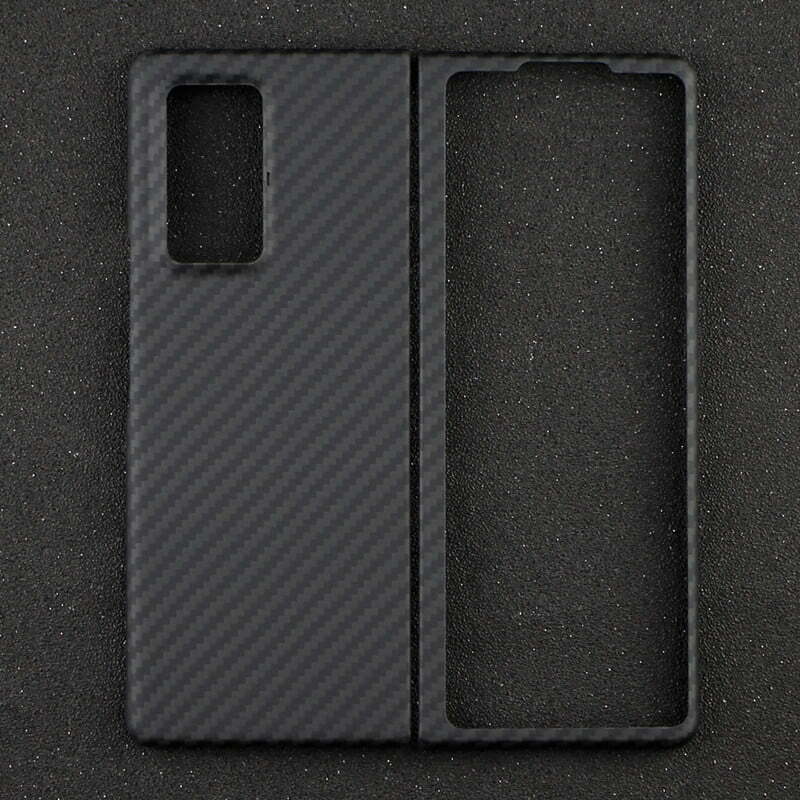 Our aramid fiber case has a stealthy looking matte finish which has a slightly tacky feel to reduce slippage. Our case has a raised lip around the Phone's lenses to help better protect them. Additionally, our case features slots around the edge to help provide maximum protection to the edge of the phone.