This crocodile purse is made of genuine crocodile leather, which is known for its strength and resistance to wear and tear. The croc purse has a flip design that allows you to access your cards and cash easily. The purse also has a bifold feature that lets you fold it in half and fit it in your pocket. The purse has multiple slots and compartments for your convenience. A crocodile purse is a great choice for anyone who values quality and elegance. If you are looking for a stylish and durable accessory, you might want to consider this men's black crocodile purse.
Features
100% Genuine Crocodile Skin
Asymmetric and buckle design make this wallet unique and convenient
Lining: Full grain leather- excellent cowhide from Italy
Function: wallet, purse, card holder, clutch bag
Interior: Cell Phone Pocket, Easily meet your daily needs and manage your cards well
Color: Black, Brown
Dimension: 19 cm x 9 cm x 2 cm
Men's Black Crocodile Purse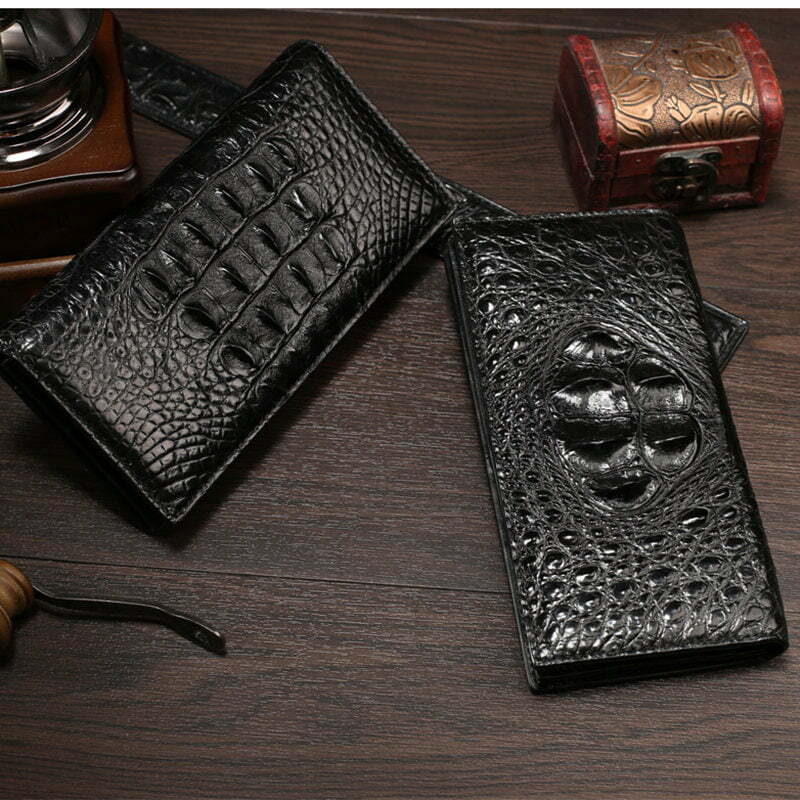 The crocodile purses are designed to keep everything you need safe. Several cardholders mean that you can keep all your credit cards organized. Pick a stylish exotic wallet that can accessorize with anything in his wardrobe, as well as being suitable for any occasion.
Fashion look together with a comfortable use experience which can perfectly shows your refined taste and our exquisite manufacturing process.
Take Hornback Skin for Crocodile Purses