Many women want Wrap Around Clutch and Evening Bag that stand out for their stylishness and elegance. With a genuine crocodile skin Wrap Around Clutch such as this, you are surely going to have just that.
Description
Crocodile Wrap Around Clutch Crossbody Evening Bag
100% Genuine Crocodile Skin
Size approximately 29cm x 4cm x 14cm
Color: Black, Red, Dark Green, Wine Red
Lining: Excellent cowhide from Italy
Every clutch is unique, because it is made from the original crocodile leather, not from the embossing pattern cow leather.
Style: Purse, Clutch Bag, Crossbody Bag, Shoulder Bag, Evening Bag
Occasion: For Women of all ages in all seasons suitable Party, Prom, Banquet, Cocktail party and best gifts for girl friend, wife, lover and friend. Just get this genuine crocodile leather purse to have a wonderful night.
Wrap Around Clutch for Women
A unique and elegant accessory for any occasion, this clutch or evening bag is made from a full crocodile skin design that shows the natural beauty of the animal. The crown of the skin is placed at the front of the bag, creating a stunning focal point. The skin extends to the back of the bag, where it forms a tail-like shape that snaps close with a magnet. The skin is wrapped around itself to create a spacious and sturdy clutch that can also be carried by hand. This is a truly amazing piece of craftsmanship that will impress anyone who sees it.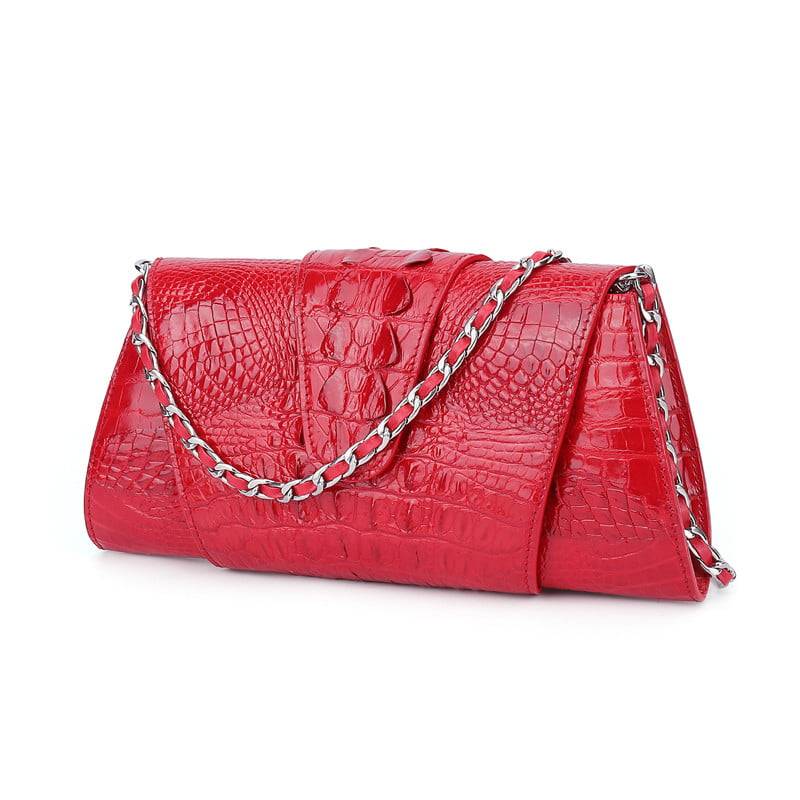 Women Crossbody Evening Bag
The shoulder strap can also be removed and be used just as a clutch or evening bag. This Wrap Around Clutch utilizes a softer Crocodile skin and a thinner cow hide inside that makes it flexible and lighter. This unique design is sure to impress at any event and is one of our bestsellers due to its uniqueness!