This alligator belt is a rare and luxurious item made from real alligator leather. The hornback part of the alligator skin gives it a unique texture and pattern that is sure to impress. The belt is crafted by skilled artisans who use only natural and genuine materials, no synthetics or artificial stuff. The belts come in different widths and colors, so you can choose the one that suits your style and preference. This men's alligator belt is a perfect gift for someone special or a treat for yourself. Whether you want a black belt or a brown belt, this one has you covered.
Brown and Black Alligator Belts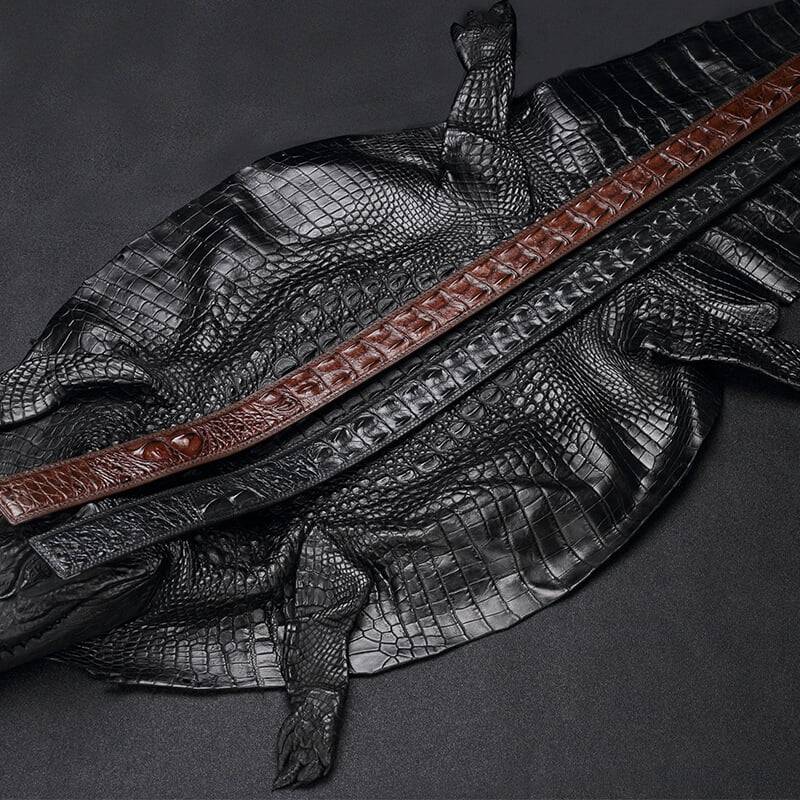 This belt comes in various sizes, from 32 to 40 inches. To make sure it fits you well, add 2 inches to your waist measurement and order that size. For example, if your waist is 34 inches, get a 36-inch belt. The strap is 3.8cm wide, so it won't have any trouble going through your pants loops. It's also super easy to use: just pull the belt to tighten and lift the buckle to loosen!
Alligator Skin in Detail

This alligator belt is perfect for any outfit. Whether you want to look sharp in a suit or cool in jeans, this belt will do the trick. It has a classic and stylish design that never goes out of fashion. It is made of high quality alligator skin that is 3.8cm wide and durable. The buckle is made of zinc alloy that is scratch resistant and shiny.
How Alligator Belt is Made

Alligator Belt Size Table

Notice: the belt you ordered might not look exactly like the picture. That's because alligator skins have different shades and patterns, so each belt is unique. Don't worry, though, it's still a high-quality product that will last you a long time.